Gourock Golf Course has a special place in the history of rock art for it's amazing mathematical feature.
Extensive cup & ring carvings at NS27NW 7 (Panel-1), were first reported by Ronald Morris in 1969 but it was a second find by Professor Thom at NS27NW 8 which contained an unusual group of five cups which fall exactely on the corners superimposed right-angled triangles of sides 3-4-5 and 6-8-10 megalithic inches and another group consisting of three rows of three cups, in a grid pattern.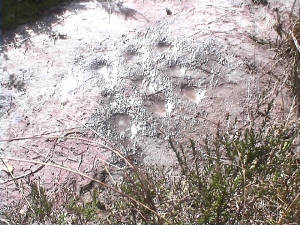 Gourock Carvings!

These 5,000 year old Cup & Ring markings can be found on the boundry between Gourock Golf Course and the hills leading to the National Semiconductor factory.